Creating a fresh new look for the voice of WA's electrical industry
300%
ECA WA was able to grow page one keyword rankings by 300% in just four months.
The brief
The Electrical Communications Association of WA (ECA WA), along with their sister businesses the College of Electrical Training & Electrical Group Training, all needed a single CMS solution that housed all three businesses' websites so processes and maintenance could be streamlined.
A key requirement of this single CMS solution was the ability to cross-pollinate content such as news articles and events so they only needed to be uploaded once, saving time and resources. The websites also needed to have a consistent look and feel, but at the same time be distinguishable between one another.
Each business had their own specific requirements, which were then built on top of this shared ecosystem.
Our solution
Addressing one of the key requirements of having a single CMS solution housing multiple websites was an easy one. Umbraco has multi-site capabilities out of the box, so this was our CMS of choice.
Lemonade created a modern visual design aimed at a younger audience which was vibrant and eye-catching. We used the existing blue colour palate across all websites, but added a custom tertiary accent colour to differentiate each business. We also ensured that all colours had sufficient contrast to pass WCAG AA accessibility guidelines.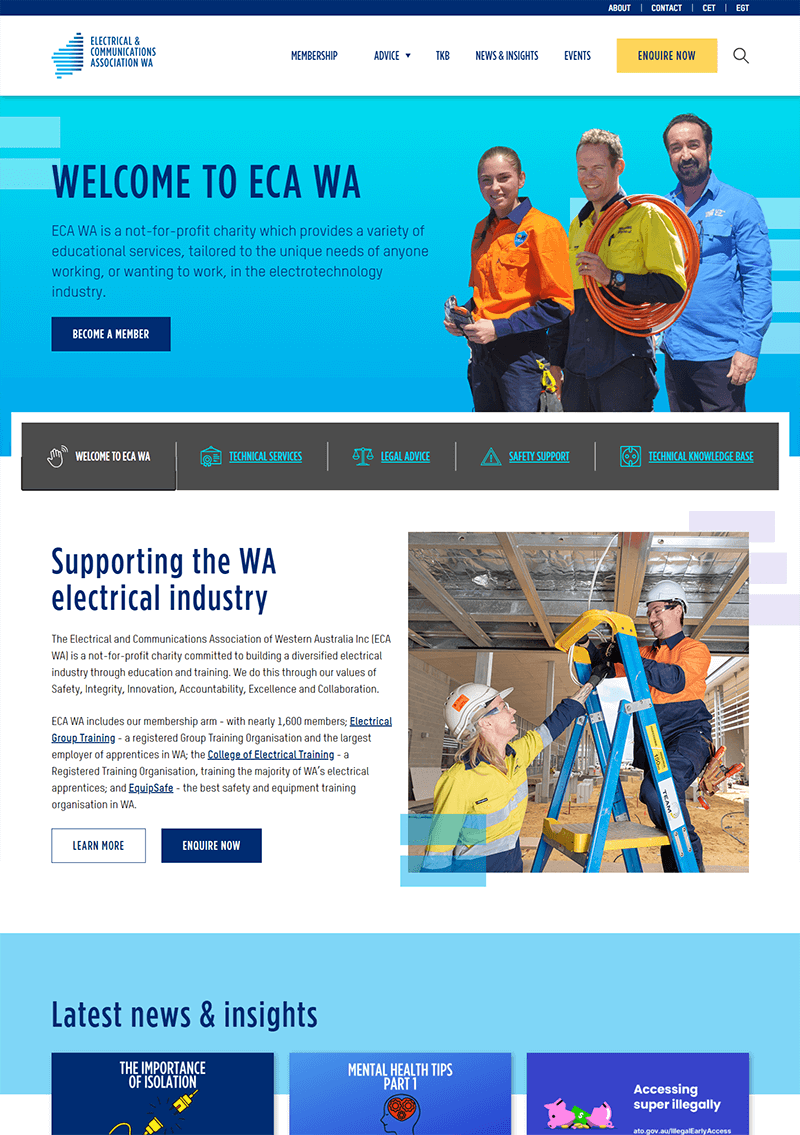 Multiple websites built into a single CMS solution
With all of the businesses posting regular news and events which needed to be displayed on all websites, a multi-site approach was needed. This was a breeze to implement using Umbraco, and we were also able to set up multiple CMS users with varying permissions. For example, we set up CMS users for ECA WA who could only access the ECA WA website.
Having a single CMS solution allowed the internal marketing and communications team to have a central location with one login to manage all content.
Website migration
The website migration component of the project involved careful planning and execution to mitigate any potential website traffic and keyword rankings loss when switching over to the new website.
In the initial stage, we undertook a comprehensive SEO audit, inventories of existing content, benchmarked performance and established KPIs. This allowed us to identify critical assets and areas for improvement. We then performed detailed search analysis to inform the website's site structure and content.
Before transition, we thoroughly tested the new site for functionality and content integrity, and set up URL redirects to preserve search engine rankings and user accessibility.
During the migration, we prioritised minimising downtime and ensured a seamless user experience. Post-launch, we monitored performance closely, utilising Google Search Console and Google Analytics to monitor performance.
Our strategic approach meant that not only did ECA WA maintain its search engine rankings, but was able to grow page one keyword rankings by 300% in just four months.
300%
ECA WA was able to grow page one keyword rankings by 300% in just four months.