Google Ads is a widely popular advertising platform that can help businesses from small to large generate quality leads and sales.
With the right strategy, it can be a great channel to generate revenue, increase brand awareness, and improve customer loyalty. There are many benefits of using Google Ads, such as the high-quality targeting options, low starting costs, and rich reporting features.
In this blog post, we'll take a look at 10 benefits of Google Ads that will help you decide if it's right for your business. But first, let's take a closer look at Google Ads.
What is Google Ads?
Google Ads (formerly Google AdWords) is an advertising platform that enables businesses to display ads on Google and its many partner sites.
When a user searches for something related to your business, they may see your ad in the search results or when browsing content within any of Google's platforms such as Gmail, YouTube, Maps and other Google-owned apps.
Benefits of using Google Ads for your business
Below are some of the main benefits that you can expect from implementing a well designed Google Ads strategy for your business. This is by no means a comprehensive list, and is only the tip of the iceberg!
1. Faster results than SEO
Ranking your web pages on Google is not easy. You have to invest a lot of time and effort into doing it well, but if you are willing to put in the work there are many benefits that come with this approach including increased traffic, better rankings for your web pages over competitors who don't optimise their websites for search, as well as more potential customers visiting your website.
With Google Ads, however, you can achieve these same results much faster than through SEO activities alone. Using Google Ads, you can expect to see your first results within a matter of days of launching your first campaign.
2. Reach wider audiences
It's estimated that Google's search engine processes 5.6 billion searches every single day, with most people performing 3 or more searches each day. If your business doesn't use Google Ads – there remains a huge audience of people who may not know about your business.
Google Ads helps you reach a much wider audience than compared to traditional advertising. With this platform, your ads can appear on Google Search and across the Display Network in addition to Gmail and YouTube where people spend time engaging with content every day.
3. Higher conversion rates
Increasing website traffic is important, but it's secondary to generating valuable conversion actions like enquiries, leads, video engagement and of course - paying customers or clients.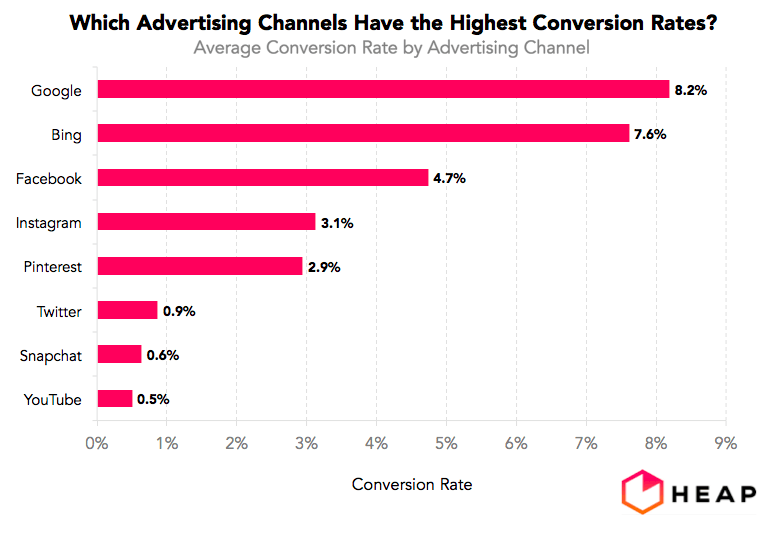 Out of all the digital marketing channels out there, search engines have the highest conversion rates.]
The average conversion rate on the Google search network is 8.2% on average, followed closely by Bing (7.6%).
Facebook on the other hand has a conversion rate that is one-third less than Google's. Twitter (0.9%), Snapchat (0.6%), and YouTube (0.5%) have the lowest conversion rates.
So if you're looking for bringing in higher quality website traffic that converts on your website, Google Ads, along with an effective SEO strategy is the way to go.
Source: Heap
4. Strong Return On Investment (ROI) 
The beauty of Google Ads campaigns is that they provide strong ROI. Google Ads are specifically designed to help marketers reach their target audience and convert leads into sales.
The main reason the ROI of Google Ads is so strong is that you only pay per click, so if no one clicks your ads you don't pay a cent. But if someone does find what they are looking for then your return will typically far outweigh what was spent on getting them there.
In fact, advertisers can expect an average return of investment of $2 for every dollar spent on Google Ads. That's a return on advertising spend (ROAS) of 200% on average.
Of course, this will vary from industry to industry.
5. Cost-effective
Google Ads is incredibly cost-effective. You can set your budget on a day-to-day basis, and target only keywords that are valuable to your advertising and business goals.
Google Ads has one of the lowest advertising rates available in comparison to Facebook and Instagram, as well as traditional advertising methods like radio, TV and print. This makes it more affordable for organisations with tight budgets who want to get their brand name out there without spending too much upfront.
There's no minimum spend when running Google Ads campaigns so it's easy for businesses of any size to get started.
6. Laser audience targeting options
Google Ads offers some of the best audience targeting options of any online advertising platform. You can easily target your Google Ads campaign to people with specific interests, such as those who are interested in your products and services and show them relevant ads.
Here's a look at just some of the options available to you through Google Ads that can help you make your digital marketing efforts even more targeted.
Keywords:  Keywords are search phrases that visitors might use to find your products and services.
Ad location:  Choose where your Google Ads will appear on Google search results pages and websites that are part of the Google Search and Display Networks.
Age, location, and language: Choose the age, geographic location, and language of your customers.
Days, times, and frequency: Decide when you'd like your ads to show during certain hours or days of the week, and determine how often your ads appear.
Devices: Your advertisements can be seen on a variety of devices, and you can control which ones they appear on and when.
10x results with remarketing
Another great targeting option available to advertisers through Google Ads is remarketing. Remarketing to your website visitors via the Google search and display network can be a great option for any business.
The idea behind this type of targeting is that you will reach the people who have already visited your website or landing pages. This gives you the opportunity to promote other products or services to them, especially if they did not make a purchase during their first visit.
Remarketing campaigns on the Google Display network are a great way to improve your ROI as research shows that the click-through rate (CTR) is 180.6% higher for retargeted users. This means that a remarketing campaign performs on average nearly 10 times better than a regular display ad campaign!
7. Easy to measure ROI
Another advantage of Google Ads is that it is super simple to measure your ROI provided that you have conversion tracking implemented on your website.
Through Google Ads, you can easily see which of your keywords and ads are generating revenue for you, and make optimisations as you go.
And that's not all; linking Google Ads with Google Analytics for conversion tracking (and other tools like it) will help your business to become even more data-driven and agile over time.
8. Easy to understand reporting
Google Ads has built-in reporting tools, so you can quickly make sense of data and spot trends without having to rely on other software or applications. You can also view your campaign performance at any time by segmenting specific metrics - perfect for analysing different aspects of your campaign.
Larger organisations with multiple stakeholders to report to may want to explore integrating Google Ads into customised Google Data Studio dashboards to display key data and highlight specific areas of performance.
9. Take advantage of responsive ads

Google released responsive search ads in May 2018 Since then, many advertisers have been using them and seeing positive results.
Responsive ads take advantage of machine learning technology, which will automatically test different combinations of ad headlines and descriptions to see which combination works best. By serving the most relevant ad to your target audience, you'll be able to increase click-through rates and conversions.
On average, responsive ads see up to an increase in click-through rate (CTR) of 15% and a decrease in cost-per-click (CPCs) by 12%. These numbers vary depending on industry and ad message but it shows that responsive ads can be beneficial for businesses under most circumstances.
Important note:  Google announced that starting 30 June 2022, you'll no longer be able to create or edit expanded text ads, with the platform moving to exclusively responsive search ads.
10. Leverage automated bidding strategies to maximise ROI
One of the most powerful features of Google Ads is automated bidding. Automated bidding takes the heavy lifting and guesswork out of setting bids to meet your performance goals.
Each type of automated bid strategy is designed to help you achieve a specific goal for your business. This article outlines the 6 different types of automated bid strategies and when to use them.
Maximize Clicks - This automated bidding strategy automatically sets your bids to help you obtain as many clicks as possible within your budget. Best for increasing traffic to your website.
Target Impression Share -  In a nutshell, Google Ads automatically sets bids in an effort to have your ad appear at the absolute top of the page, on the top of the page, or anywhere on the Google search results page. Best for brand visibility or awareness goals.
Target CPA - Target CPA automatically sets Search or Display bids to help you achieve the most conversions possible for the target cost-per-action (CPA) you specified. Best for meeting a target return on ad spend (ROAS) if each conversion goal is worth something different to your business.
Target ROAS -  Google will automatically set bids to get as much conversion value as possible at the target return on ad spend (ROAS) you specified. Best for meeting a certain return on ad spend (ROAS) target if each conversion is valued differently.
Maximise conversions - Maximize Conversions can automatically optimize bids to help you get the most conversions for your campaign while sticking to your budget. Best for getting the most conversions while utilising all available budget.
Maximise conversion value - Automatically sets bids to help you get the most conversion value for your campaign while keeping your budget in check. Best for maximising conversion value while utilising all available budgets.
Learn more about Google Ads automated bid strategies.
Do Google Ads really work?
A common question many business owners and Marketing Managers have is: "Do Google Ads really work?". The short answer is a resounding yes, Google Ads works.
Google Ads is a cost-effective form of advertising that caters to businesses of all sizes, with varying budgets and advertising objectives.
And with an endless number of targeting options at your disposal, there's never been a more cost-effective way to get your products or services in front of your ideal customers on Google search.
So why not test out Google Ads today and see what kind of results you can generate by integrating paid search advertising into your digital marketing strategy!