Do you want to know how to do SEO for real estate in 2023? I mean, you could go through the motions and just hope it works out.
Or, you could use SEO tactics that have been proven to increase your leads on the path to growing your business.
In this guide, I'm going to share with you the tried-and-true methods I've used to generate more traffic and leads for some of Perth's most prestigious real estate agencies.
What is SEO for Real Estate?
A lot has changed since Google launched in 1996. Back then, real estate websites were easy to rank for keywords because there weren't many websites on the internet yet and it was easy for users to find what they were looking for.
Today there are billions of sites that compete with each other for organic search visibility on Google, which makes it much harder to rank highly in search results without proper SEO practices in place.
SEO is the process of improving your website's visibility in search engines such as Google and Bing, which can result in more visitors to your site.
Why is SEO important for real estate agents in 2022 and beyond?
SEO for real estate agents is a great way to get your business noticed on the internet. It can lead to more traffic and conversions, higher ROI, and great local brand awareness.
The internet has changed the way we buy and sell homes. It's now easier than ever to find information about homes that are for sale and connect with an agent who can help you buy or sell your home.
Real estate agents can benefit from SEO in many ways, including:
Reach more potential clients - Almost half of buyers start their search online. They want to know what homes are available, how much they cost, where they are located and what amenities they have. If you're not showing up in search results when these buyers are looking for homes, then you will miss out on many potential clients.
Higher ROI (return on investment) - SEO helps generate qualified leads at a lower cost compared to other marketing channels such as Google Ads, print advertising, direct mail or even radio.
Great local brand awareness - Ranking your website on page one of Google search is a great way to build brand awareness in your target suburbs.
Build your reputation and establish yourself as a thought leader in your area by publishing blog articles and guest blogging on relevant websites.
How does Google rank websites?
Google's mission is to organise the world's information and make it universally accessible and useful.
At its core, Google crawls the web, indexes content and serves up the most relevant and useful content.
Google then 'ranks' websites based on their relevance to a search query, as well as a plethora of other factors which we'll look at in the section below.
Top Google ranking factors to optimise for in 2022
Google uses over 200 factors in their algorithm to determine a website's rank in search results. Thankfully, there are 10 main ranking factors that we can focus on.
A Secure and Accessible Website
If a site is not secure, Google will show a warning in the search results. The search engine considers it a high-risk site, which could lead to phishing scams or malware. One way you can ensure your site is secure is by using HTTPS.
Page Speed (Including Mobile Page Speed)
Google has been focusing on making its mobile search experience better for users by prioritising sites that load quickly on mobile devices over those that do not perform well on mobile devices. In fact, page speed is one of the most important ranking factors for mobile searches.
Mobile Friendliness
Mobile-friendliness is another important factor when it comes to SEO rankings because it affects a user's experience when they are using their smartphones or tablets to search online.
Domain Age, URL, and Authority
Google likes established websites that have been around for a while because they're likely to be more stable and trustworthy.
Quality content
It's no surprise that quality content is one of the most important ranking factors. In fact, it's not just one of the most important, it's probably THE most important factor. The more relevant and compelling your content is, the more likely you are to rank well in search results. Good content also helps you get traffic from social media and other sources.
Technical SEO
This mostly means making sure your website is set up so Google can easily crawl and understand it (i.e. no broken links or missing pages). But it also includes things like keyword density and meta tags.
User Experience
This means making sure your website is easy for humans to use as well as search engines. It includes things like design, layout, site speed and mobile-friendliness.
Links
Backlinks are links that point to your site from other sites on the web. A link from a high-quality website (such as REIWA) is more valuable than a link from a low-quality site (such as a forum). Google calculates how helpful each backlink is by looking at the source's authority and reliability (how long it's been online and how often it gets updated).
Social signals
Social media signals are a measure of popularity on social media sites like Facebook, Twitter and Instagram. The more likes, shares and mentions you get for your content, the more likely it is that Google will rank you higher for certain keywords.
Real Business Information (NAP)
NAP stands for Name, Address and Phone number and it helps Google identify whether or not your business actually exists at that address or phone number. Having correct NAP information also makes it easier for customers to find you online because they know exactly where to go if they want to visit your brick-and-mortar location or call you directly with questions about your services.
Best Practices for Real Estate SEO in 2022
Now that you have a better understanding of how Google works and what search engines look for when ranking websites, let's take a look at some of the best practices that you can implement today to start ranking your website in search.
1. Create an SEO strategy and roadmap
Before you start optimising your website or creating content, you need to have a solid strategy in place.
An SEO strategy for your real estate business involves looking at "the big picture". It should outline where you are now, what your goals are and how you will achieve those goals. At a minimum it should include your goals and KPIs for your SEO efforts.
Next you need a plan of attack that outlines everything that needs to be done to help you achieve your goals. That's where an SEO roadmap comes in.
An SEO roadmap is a written document that outlines the prioritised action items for implementing your SEO  strategy. It includes detailed tactics, tasks, and deadlines. It helps to:
Align your digital SEO efforts with your business goals
Get team members on the same page
Organise and streamline all of your SEO projects
2. Audit your website regularly
You don't know where you need to be if you don't know where you are. An SEO audit is a process during which you check the "health" of a website and find out what fixes might be needed to improve it. Essentially, it's the process of ensuring your website can be seen, crawled, and ranked by search engines.
There are three key factors to look at during an SEO audit:
Technical factors, such as hosting and indexing
On-page factors, such as content, keywords, and metadata
Off-page factors, which include backlinks and citations
SEO audits can be time-consuming, and depending on the complexity of your website can take anywhere from a few hours - to a week to complete. To make life easier, we recommend following an SEO audit checklist and/or using tools such as the Semrush site which can automate the audit process for you.
Useful tools to use for your audit:
Google Search Console - Google Search Console's tools and reports help you measure your site's Search traffic and performance, fix issues, and make your site shine in Google Search results. We like to think of it as your interface between Google and you.
Google Analytics - Google Analytics is a free web analytics tool offered by Google to help you analyse your website traffic.
PageSpeed Insights - PageSpeed Insights (PSI) reports on the performance of a page on both mobile and desktop devices, and provides suggestions on how that page may be improved.
Semrush - Semrush offers a great site audit tool that will help you perform a comprehensive technical SEO audit, find and fix on-site issues, and improve your Google rankings. It automates much of the work in finding issues with your site and organises them in an easy to understand way.
3. Perform keyword research
When people search for something online, they're doing it because they want an answer or solution to a problem—and if your website doesn't show up when they type in something related to your business, then you could be missing out on potential leads. 
But how do you find out what terms your potential clients are searching for? That's where keyword research comes into play. 
Keyword research helps you find out what terms potential clients are using in their searches so that you can optimise your website to include those terms. It will also help you to uncover the most popular questions that people have relating to buying, selling or investing in property in your area, giving you an endless list of content ideas for your blog, social media platforms and even email newsletters.
Here's how real estate agents can perform keyword research for their website
1. Start with a goal in mind
Specify what you want to achieve before you start. Find new blog content ideas, find the biggest questions that buyers or sellers in your area have on their mind, or look for new search terms that you may not currently be ranking for?
2. Make a list of "seed keywords"
All keyword research starts with a topic, idea, or head keyword, also called a "seed keyword." This seed can come from your real estate knowledge, the names of suburbs or the city you operate in, or the services you offer.
Make a keyword list in an Excel or Google Sheets document of all relevant terms that you can think of. Think of the phrases and questions that potential buyers, sellers and investors might use when searching on Google. Here's a few examples:
Best real estate agents in [suburb]
How much is my home worth in [your suburb]
How to stage your home
Tips for selling my home in South Fremantle
House for sale in [suburb]
Investment properties in [suburb]
You could even expand your list of terms to include more general searches related to the suburbs you operate in:
Best coffee in [suburb]
Is [suburb] a good place to live?
Things to do in [suburb] in winter
3. Get even more keyword ideas
Now that you have your list of questions and phrases that your audiences might be searching for, it's time to discover more keywords that could be relevant to your website.
I recommend using a variety of tools for this, but it all depends on how in-depth you'd like to go. A good place to start is Google Auto Suggest.
Simply start typing in your keyword in Google, and a drop down will appear with some of the most popular searches relating to that keyword. Take note of any that stand out to you and add them to your Initial keyword list.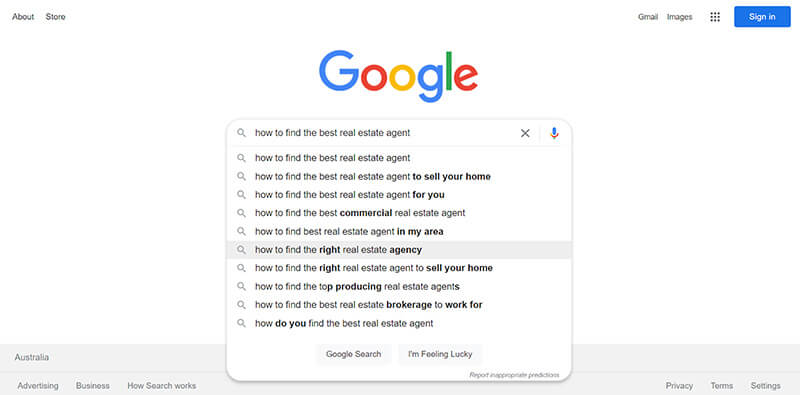 The 'People All Ask' section in Google search results will also display the most popular questions that people have around your main keyword. This is personally my favourite way to find new topics for blog posts.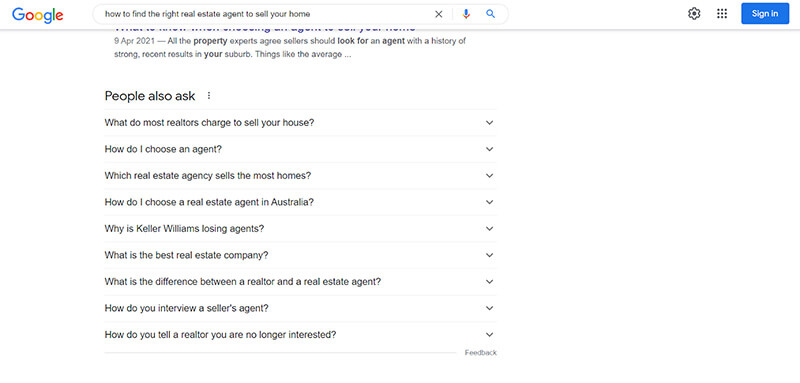 I also recommend using tools such as Answer the Public and Semrush which can generate thousands of keyword ideas that will branch out from your initial keyword. Each of these tools have free trials which you can use for this step.
4. Determine search volume and how difficult it would be to rank for those keywords
Now you should have a pretty hefty list of relevant keywords to target. If you're happy with your keyword list, you'll now need to determine how popular each keyword is and how difficult it would be to rank for them on search engine results pages (SERPs). This is where a keyword tool such as Semrush comes in handy.
Simply copy your list of keywords into the Keyword Overview tool within Semrush (up to 100) and hit search. You'll now have a complete list of search volume and keyword difficulty data for each of your keywords.
5. Identify the best keywords
Next, we want to find the best keyword opportunities for your website. You will want to look for keywords with good search volumes and low - medium keyword difficulties (0 - 49).
Add these keywords into a spreadsheet. This will be your master keyword list, which can help you identify which blog posts or webpages to create, or which pages on your website are missing relevant keywords in titles, headings or content.
If your website is new, I recommend prioritising the keywords with the lowest keyword difficulty as these will generally be easier to rank in Google.
4. Optimise your content
Now that you have a list of relevant keywords that you want to rank for, it's time to optimise your existing website content for those keywords.
This is known as on-page optimisation or on-page SEO.  
On-page SEO is the process of making sure your website is optimised for search engines. It is all about making sure that each page of your website is set up in a way that allows search engines to understand and rank your content effectively.
Here are some of the most important elements to be aware of when optimising each page of your website for search engines:
1. Use the right title tag
Your title tag is one of the first things Google (and people) will see when trying to find your page. Make sure you include a keyword or phrase that's relevant to what your page is about.

2. Include a meta description in your page
A meta description is a short description of what your page is about that appears in Google search results. It should be compelling enough that people will click through from Google search results to your site—so make sure it includes keywords or phrases related to what your site offers, but doesn't sound like spammy sales copy.

3. Include your keyword in the H1 tag
Make sure all of your pages have an H1 tag (the big bolded heading at the top of each page) which includes a relevant keyword. This will help Google understand what this page is about and can rank it appropriately in search results.
4. Use relevant keywords in the body copy
Simply repeating your main keyword in the body copy of one of your listings is not enough to rank in 2022. Google is much smarter than that these days.
Instead you'll need to use synonyms and related keywords of the keyword you want to target within your page to give Google additional context about the page. 
For example, let's say you want to rank for "best real estate agent in Cottesloe".

You'd want to mention that keyword a few times in the body copy of your page, along with some related keywords such as:
Best real estate agent in western suburbs
Top real estate agent cottesloe
Western Australia
Perth, WA 
Award winning real estate agent
It's important that these related keywords appear naturally throughout your page, and aren't just stuffed in as this can negatively impact your rankings and of course, just look unprofessional. 
5. Optimise images
As a real estate agent, you'll have no shortage of rich photos of properties and the surrounding areas. Use these to your advantage, and make sure they are front and centre on your website.
But it's not enough to have great images on your site. You'll need to ensure that Google can understand each image, since it can't "see" them like us humans can - just yet anyway.  That's where descriptive file names and alt text comes into play.
Here are three ways you can optimise images on your site:
Use a descriptive filename when saving images to use on your website. For example, something like "House for Sale at 123 Example Way, Fremantle".
When uploading an image to a page, always fill in the alt text field for the image. Alternative (Alt) Text is meant to convey the "why" of the image as it relates to the content of a document or webpage.

Not only does it help Google understand the image (helping you to rank in Google Image search results), but it is also read aloud to users who may have vision impairment.

Your alt text should describe in detail what the image is about. For example, you might use "Two storey red brick house with garage and driveway".
5. Create a Google My Business Page
If you're a real estate agent, chances are you're already familiar with Google My Business (GMB). But if you haven't used it before, or you don't know why it matters, this article is for you.
GMB is one of the most important tools for any business in today's digital world—and it's especially important for real estate agents. Here's what Google My Business is and why it matters to your business.
What is Google My Business?
Google My Business is an online tool that allows you to manage your business information on Google's local search results pages. That includes info like your address and phone number, hours of operation, photos of your office space and staff members, ratings from previous clients, reviews from more recent customers, social media links—pretty much anything else that would help someone decide whether or not they want to do business with you.
Google My Business reviews, and how you respond to those reviews are a determining factor on how well your website ranks in your local area.
How to setup Google My Business
Go to https://business.google.com/ and log in with your Google account (if you don't have one, you can create one.)
Enter the name of your business in the top box and click "Get verified."
Enter your business address in the next box, then click "Verify This Business" at the bottom of the page.
Enter the phone number associated with your business, then click "Verify This Phone Number."
Add photos. Click "Add Photos" under "Photos & Videos," then upload photos that accurately represent your business by clicking on them individually or selecting them all at once using the checkbox icon on the right side of each photo preview window before clicking "Add as Profile Photo" at bottom right corner of each window one by one (up to five photos per profile).
Customise your profile. There's lots of ways to optimise your GMB profile for search. Some of these include:
Adding compelling photos of yourself, your business and your team
Add videos
Ensure you include relevant keywords in your profile (This is where the keyword research you performed previously comes in handy)
Post your new listings or links to blog posts
6. Publish consistent content on your blog
Publishing blog content is important for real estate because it gives you an opportunity to showcase your expertise, build trust with potential clients, and establish yourself as an authority in the industry. Blogging is a great way to share information with your audience. You can use your blog to:
Educate readers on industry trends
Provide industry insights
Share success stories from past clients
Use the keyword research process we shared above to uncover the top questions that buyers, sellers or investors have, and then create content around those questions. 
With content being such an important part of Google's ranking algorithm, we recommend posting at least once per week. But make sure that the content answers your readers questions in a way that stands out from the rest.
7. Create suburb-specific content
When creating content for your website, ensure that it is centred around the city and suburbs that you operate in. This will increase the likelihood that your website will appear in searches related to those suburbs, thus boosting your visibility to people searching or living  in those areas.
For example, you might create a blog post highlighting some of the best cafe's in your area. Then you could reach out to those cafes, and ask them to share the post on their social media, helping to build your website's reputation and authority. This is great for SEO and potential clients.
8. Build links
Backlinks are the cornerstone of SEO, and they're one of the most important things you can do to help your website rank higher in search engines.
Backlinks are links from other websites that point back to your website. When you have a lot of backlinks from high-quality, relevant websites pointing to your site, it tells search engines that people find your site useful and important, which helps move it up in the rankings.
Here are some ways real estate agents can build backlinks to their sites:
1. Guest post on other blogs and websites
Write an article that talks about a relevant topic and submit it to a blog or website where it will be accepted (the more authoritative the source is, the better). If they publish your article, they'll link back to it at the end!
2. Create original content
Create an original piece of content on your own website that's related to real estate (such as an infographic about how much home buyers spend on renovations). Then promote this piece of content across your social media channels or share it in your email newsletter. 
If your content is good, there's a chance it will be picked up and used by another website which may link back to your website. If you have the time, you could also reach out to relevant blogs or websites asking if they would like to use your content in exchange for a link back to your site.
3. Add your business information to local directories
Links from online directories are usually of lower quality than an authoritative blog in your industry, but they can still help to build your backlink profile. In fact, I find that they are still useful even in 2023. 
To find online directories that you may not be on yet, search on Google for relevant keywords that describe your industry + "directories". 
For example, real estate perth "directories".
Try to avoid any online directories that look spammy as they likely won't help your backlink profile and may even hurt your rankings.
9. Share your content on social media
We've left this one until last as social media isn't a direct ranking factor. While there's no direct ranking correlation between social media and keyword rankings, social media can have a positive impact on your overall SEO results. 
For example, sharing your articles on Facebook or LinkedIn can help your content reach more people. It can also help you to gain backlinks naturally as the chance of another website picking up and sharing your content is much higher when your content is visible across social media.
Keeping it simple: Expertise, Authority, Trust
I know that we've covered a lot of information in this article in terms of how to optimise your Real Estate Agency's website for Google. 

To keep it simple, always think about E.A.T when it comes to optimising your website for Google. Google ultimately gives preference to websites that demonstrate subject matter expertise and reputation.
Google's official documentation gives us an insight into the exact elements that Google looks at when determining the reputation of a website.
Those elements are:
Expertise
Authority
Trust
If you focus on showing your expertise, building your authority and developing trust with potential buyers and sellers in your area, then you are on the way to gaining higher rankings in Google search.
Can I do SEO on my own?
Absolutely. Although it requires staying up-to-date with the latest developments in search, learning the right skills and continually testing new approaches. If you want to tackle SEO on your own, you'll need to become proficient at performing keyword research, creating compelling content, identifying and fixing any technical issues on your website and much more.
A successful SEO strategy requires a substantial time commitment. Optimising your real estate website and creating content can take many hours of research and experimentation before you see any real results. And even then, some website will require more effort than others.
Feeling overwhelmed?
If you are looking to maximise your return on investment from SEO, we recommend employing a digital agency or professional with a proven track record of delivering results.
If you'd like to learn more about what SEO can do for your real estate agency or find out how we can help, get in touch with us today.